It's Now for Nature
Nature underpins every aspect of our society, wellbeing and economy. But nature is in crisis. Our economic activities are operating outside the safe zones for six of the nine planetary boundaries that keep Earth habitable. This is causing declines in the services nature provides, and disruptions in supply chains, business operations and investments.
A growing community of businesses and financial institutions recognize they cannot sustainably grow their business, or achieve their climate goals, without protecting and restoring nature.
'It's Now for Nature' is a joint global campaign to bring together all businesses to act on nature and contribute towards a nature-positive world by 2030.
A net-zero, nature-positive and equitable future is possible and businesses can contribute by setting credible nature strategies.
Why do businesses need a nature strategy?
Regulation on corporate nature disclosure is coming. Investors are getting serious about the risks of nature loss. Consumers are demanding change.
196 countries committed to halt and reverse nature loss by 2030 by adopting the Global Biodiversity Framework. Within the framework, large businesses and financial institutions are required to assess and disclose their impacts and dependencies on nature.
Now is the time for every business to create a nature strategy – a roadmap of how it will contribute to a nature-positive world.
With a credible corporate nature strategy, approved at the most senior level, a business is more likely to deliver concrete actions to contribute towards halting and reversing biodiversity and nature loss by 2030, and to meet increasingly stringent regulatory requirements on nature.
Through this campaign, businesses are encouraged to share their nature strategies to set out how they are addressing the nature crisis, in a public and accessible way, and to help to drive accountability.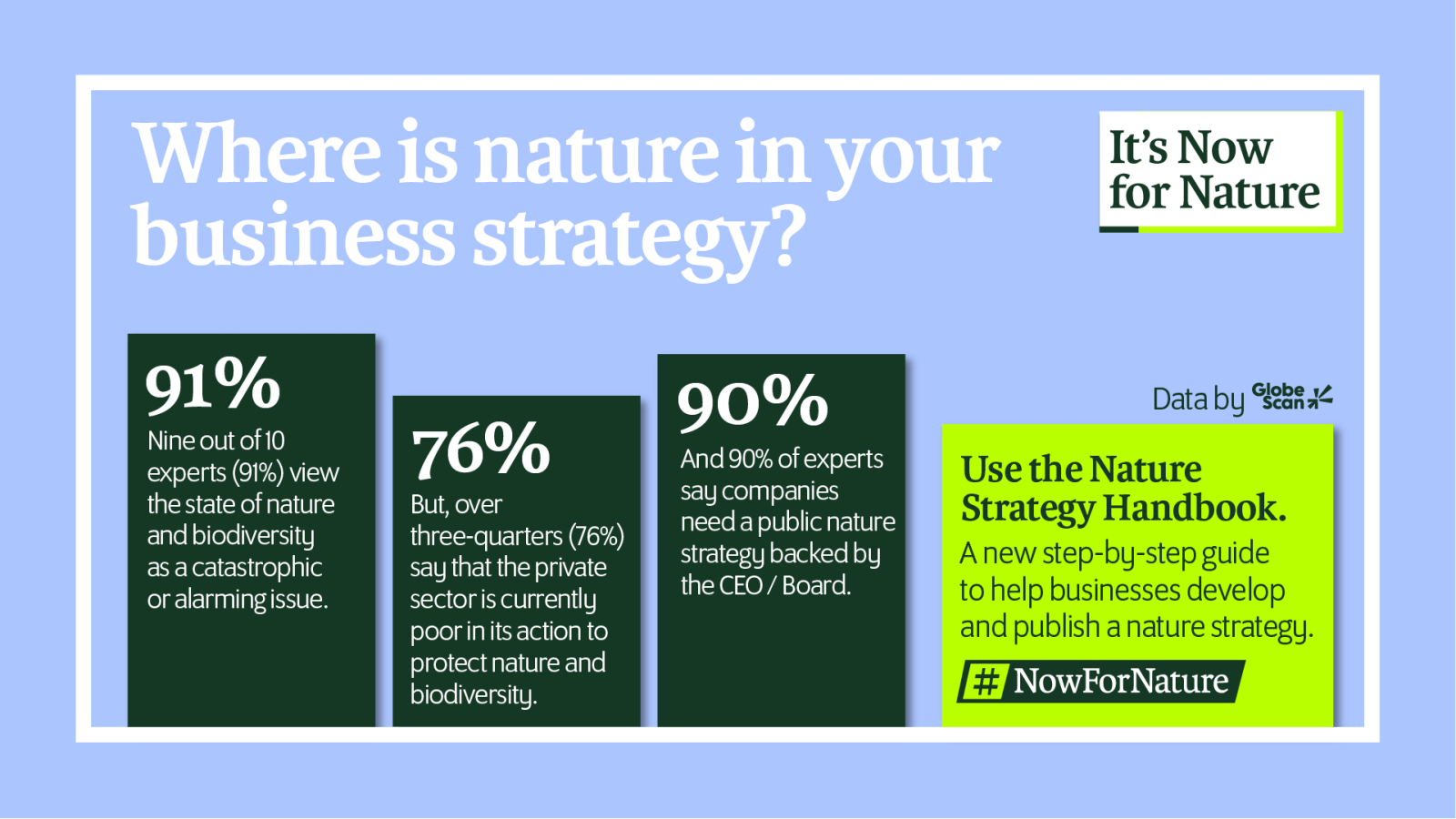 What is the Nature Strategy Handbook?
The Nature Strategy Handbook provides recommendations for all businesses – whether corporates or financial institutions – on how to set a forward-looking nature strategy and where to find useful tools and resources.
Submit your nature strategy
Join the growing number of businesses who recognize they need to scale and speed up business action on nature.
Not ready to set a nature strategy?
The Business for Nature coalition
Business for Nature's work is made possible by the generous financial support from the Global Environment Facility (GEF) –  in partnership with Conservation International (CI) as a designated GEF Agency – Porticus, the European Commission, Fondation Hans Wilsdorf and occasional support from other organizations.